By Elva D. Green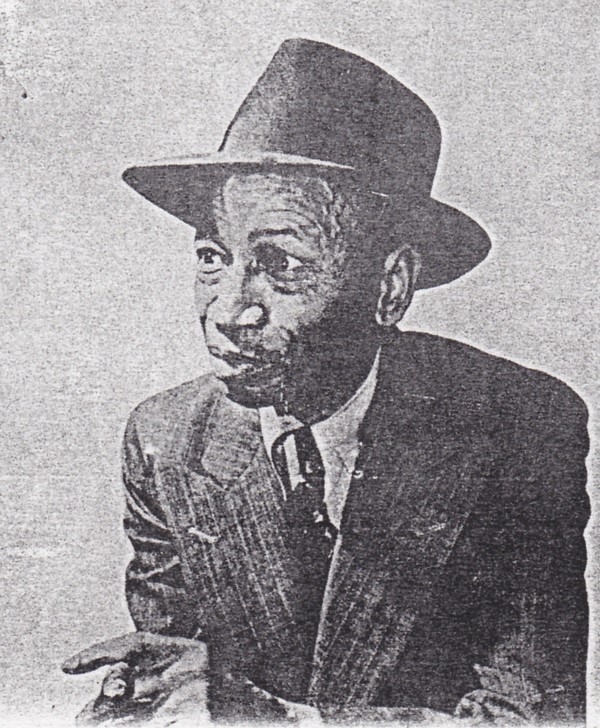 Perry (Mule) Bradford
In 1920, Mr. Perry (Mule) Bradford, African American songwriter, minstrel, and vaudeville performer was responsible for convincing White owned Okeh Records to record the first African American female blues singer. Bradford, born in Alabama, spent years traveling the country in minstrel shows and Vaudeville where he heard many "folk songs", meaning songs sung by African American folks. Over time, these types of songs became known as the "Blues" and Perry became determined that the African Americans singing these songs would one day benefit and be recognized as not only the originators of the Blues but also as having the best musical characteristics to sing these songs.
The Blues was a state of mind that surfaced with slavery. The slaves would sing verses in low tones about life as a slave, about the backbreaking work in the hot sun, about dragging bundles of cotton, about being shackled and beaten. B. B. King says it like this in his song "Why I Sing the Blues":
"When I first got the blues
They brought me over on a ship
Men were standing over me
And a lot more with a whip"
The slaves brought with them their African call and response form of communication, which became a mournful yet spiritual type of singing. After the Civil War, the folk songs eventually became known as the Blues, songs for the downhearted and freedom brought about new problems. Some slaves did not know how to be free, and so they stayed as laborers on the plantations. Some became itinerant Blues singers moving from place to place bemoaning their situations.
Eventually the Blues became an anticipated source of entertainment. This music found its way into minstrel shows and circuses and onto the Vaudeville stage. It could be heard in speakeasies and musical reviews. During the teen years of the 1900s, Ma Rainey was well-known as a blues singer. Bessie Smith was singing
the Blues on the Vaudeville stage. Though these women had become quite popular, their progress was limited. They could not go into a recording studio and be recorded, because they were African American.
White people had discovered and begun recording the Blues and had no intention of purchasing music by African Americans, much less recording their music and African Americans were not welcome in establishments that sold recordings. My father's (Eddie Green) song, "A Good Man is Hard to Find" was recorded by one of the first White women to sing the blues: Marion Harris, in 1919. The cover sheet features a seated White lady. If it had been known that an African American wrote the song in 1917 it may not have sold at all, however, it became a major hit.
By 1920 Perry Bradford had become a success as a pianist, a singer, a dancer, and a composer. He had also become a music publisher. Perry knew the talented achievements of African American people. Perry also knew that the White versions of the blues songs did not carry the Black characteristics that culminated in a true Blues tune (the voice, the bass lines). Perry knew that there were many African American singers who could benefit if they could be recorded. Perry was also looking at the financial advantage to himself and to the recording companies. Perry took his idea to various recording companies. He got a break at Okeh Records when, after much persuasion (and even after White consumers threatened to boycott Okeh) the company agreed to record an African American artist.
On August 10, 1920 Perry chose Mamie Smith to record his song "Crazy Blues" with an all-Black band. Mamie Smith had now become the first African American female to record a Blues song. The song was a hit. White record companies rushed in to record African American Blues singers to get in on the financial boom, and recordings became available for purchase by the African American listener. Ma Rainey came out of the circus and started recording. Bessie Smith began recording and became known as the "Empress of the Blues."
Perry Bradford was paramount in breaking a color barrier in the recording industry. Perry had managed to open wide the doors for the future recordings of African American singers. Greats like Alberta Hunter, Blind Lemon Jefferson, Billie Holiday, Etta James, Johnny "Yard Dog" Jones, Lizzie Miles and Keb' Mo'. It is because of Perry Bradford that I can listen to a recording of Ethel Waters singing "Take Your Black Bottom Outside" with lyrics by my father. It is because of Perry Bradford that African Americans have access to the recording industry and Perry's influence continues to this day, one hundred years later.
Elva D. Green
July 2020
Copyright 2020 Document Records
Listen to
'Elva Diane Green On Her Father Eddie Green, The Pioneering Black Filmmaker And Songwriter'